Hello Everyone!!!
My 1st post for the year 2013....yay!!!
I don't if you noticed I was not around the blogland for last few weeks.
I had rough end to my 2012... my Dad was admitted to the hospital since 17th of Dec...acute case of pneumonia ..as he had his 2nd bypass heart surgery last June, things were more complicated .
Then he came back from the hospital on 29th Dec and flew back home on 30th Dec.
On 31st my driver smashed our car very badly...I was in the front passenger seat and that side is totally destroyed. Thank you God I don't have any major physical injury.
That was the rough end to my 2012.
Again yesterday my Dad was rushed to the hospital again...so here comes the rough start to the 2013 :(
But Craftwise I had a wonderful 2012 and
2013 looks pretty good so far!!!!
In 2012
I joined some amazing DT...CAS-ual Fridays, Ribbon Carousel and Sparkle Creations!
I designed for some lovely DT as Guest Designer.
Won some fabulous challenges... Moxie Fab World, Hero Arts and more.
I was the Moxie Fabber of the week..Woot! Woot!!
My work was published in 21 issues of different Paper Crafting Magazines....Papercrafts, Cards, Create, Just cards, Scrap& Stamp Arts ...
Best part of all I got to be the COVER Girl for Papercrafts Jan-Feb2013 issue.
The most Awesome thing...now I have few more wonderful bloggy friends whom I absolutely love ...this hobby is amazing ...love it!!
Now the 1st exciting news of 2013...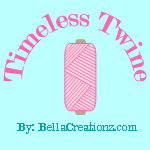 So my 2013 creations will be filled yummy Baker's twine goodness!!!
Check it HERE.
Few more exciting CRAFTY news are there but I can't share it right now :(
Best news of this year so far is our Big Move back to Home...
YES!!! We're moving back to our NJ home most probably by the end of FEB 2013.
Pray for us...hope everything works out smoothly!!
Hope all crafty Friends get the holiday happy mail from me soon... I'm really upset with this Indian Postal System...I have handpicked crafty and non crafty goodies for my friends and mailed them on the 1st week of Dec2012, but unfortunately most of them didn't receive them yet...Grrrr!!
Hope I get back to my craftroom soon and create something fun..

Have a Wonderful 2013!!!